Some people fear old age because they worry that life won't be fun anymore. The reality is that today, seniors continue to live well and have a great time. One of the things that enable this is assisted living.
These facilities provide a safe, secure home with all the amenities and services older adults need to live. They also add plenty of opportunities for socializing and activities. There is never a shortage of things to do in a retirement community.
Still, some seniors struggle with the transition. It can be intimidating and make them feel out of place or put aside by their families. They are just as needed and loved as they always were, and it's important for them to know that – especially during the holiday season.
The first holidays spent in assisted living can be an adjustment. Some seniors may not be able to do the things they once did or be a part of all the family activities they were when they were younger. Finding ways to include your aging loved one will go a long way in helping them rediscover the joys of the season.
Understanding what assisted living life is like for seniors can help you come up with ways to bring holiday cheer to your loved one. If you aren't sure where to begin, we can help. Try making these activities a part of your annual celebration!
Bring in Senior-Friendly Holiday Decorations
Seniors can decorate their assisted living rooms for the holidays. Bring in some safe, senior-friendly decorations. If you are adding lights, make sure you display them without cords getting in the way of doors and pathways. A battery-operated light string might work better because you won't need an electrical outlet.
Place a wreath on their door or in a window, hang garland, or add a holiday throw pillow to a chair. There are lots of ways to make their living space look festive!
If you have questions, talk to assisted living staff about what's allowed and safe to use.
Decorate a Christmas Tree as a Family
Decorating the Christmas tree is a popular family tradition. Your loved one may not be able to be there to do it at your house, but you can always come to them.
Assisted living rooms have limited space, so consider buying a smaller artificial tree to display on a table. This will keep it up off the floor, so it isn't a tripping hazard, and make it easy to reach in case your loved one wants to add another ornament.
Pre-lit trees are a great choice because they are easy to set up and don't have extra wires dangling around the branches. Just make sure the ornaments you bring can fit on the tree without making it fall over.
If your loved one has a favorite ornament that is too heavy or won't fit, consider buying a display so they can showcase it on a shelf, windowsill, or table.
Watch Classic Holiday Movies Together
Many people have a tradition of watching holiday movies. This is a great way to spend time with your loved one! The classics give us a sense of nostalgia. They can make us feel warm and happy inside. Films like It's a Wonderful Life, A Christmas Carol, Christmas in Connecticut, or Rudolph the Red-Nose Reindeer are great choices.
Get your loved one involved and find out which holiday classics they love to watch.
Plan Holiday Visits and Outings (if Possible)
If your loved one is able, plan to take them out for holiday fun. Choose something suitable based on their mobility and medical needs. A crowded festival may be too much, but a nice family dinner might be a good choice. They may not be able to come to all events but attending one or two can mean a lot.
Not all seniors can safely travel this time of year. Instead, you can plan to visit them for special holiday get-togethers. If you have family coming in from out of town, make sure they schedule a time to stop by and spend quality time with mom, dad, grandma, or grandpa.
A visit can mean the world to your loved one and will help them know that you haven't forgotten them during the holiday festivities.
Organize a Get-Together with the Neighbors
Socializing is essential to good physical and emotional health. The holidays are a great time to encourage your loved one to make friends.
Plan a get-together with your loved one's neighbors. Bring some holiday treats, like Christmas cookies, a cake, or pastries. You could even plan a small luncheon with small sandwiches or whatever is easy to bring in and share. Invite other residents and create a new assisted living holiday tradition!
Host a Holiday Craft Session with Your Loved One
Crafting is a fun part of the holiday season! If your loved one enjoyed making things when they were younger, they will really appreciate this pastime.
Plan a craft that is manageable based on their ability. Seniors with arthritis may have a harder time with tasks that require a lot of dexterity and strength. One way to deal with this is to pre-cut materials that they can assemble without strenuous hand movements.
Choose something that they can use or display during the holidays, like a paper snowflake or homemade Christmas ornament.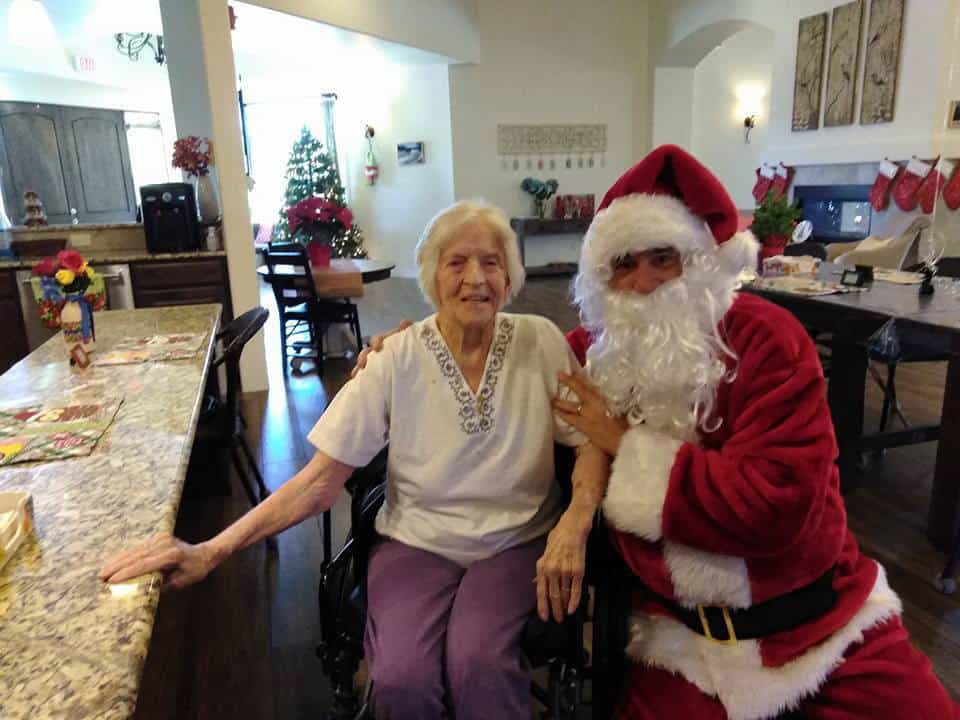 Give a Holiday Photo Album and Add to It
Put together a photo album featuring memories from past holiday seasons. This will remind your loved one of fond memories and the people they love.
You can leave space for future photos as well. Each year, take pictures with your loved one doing holiday things. You can print the images and let your loved one add them to the album. It can become another fun tradition that reminds them that there are still more memories to be made!
Check the Assisted Living Events Calendar
Assisted living communities usually have busy events calendars. See what's coming up in December and look for activities or events that you can join. Some facilities have musical performances, holiday dinners, or other gatherings that welcome outside friends and family.
Being there with your loved one gives you more time to make memories and will remind them that they are still a part of your holiday celebration. Assisted living helps seniors stay happy and healthy all year round. Learn more about Aspen Care Home to find out how our residents celebrate the holidays.