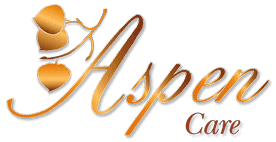 Testimonials
What People Are Saying About Us
Warm, Friendly and Homelike
Jane and I just wanted to thank you for all you and your staff have done for my father, Rex. He certainly misses you all. Please tell the residents and caregivers hello from him, and Jane and me.
Our experience with Aspen Care Home was life changing for our family and I am writing this for you to share with anyone that might be looking for a loving, caring place for their parents or significant others. My father fell and broke his hip. Following surgery he went to a large facility for rehab, after which he moved into long term care at the same place. Rex was not happy and neither was I. It was a large, hospital like institutional facility. It was impersonal and a depressing atmosphere for Rex and all the family, so we started looking elsewhere.
My wife found Aspen Care. The feeling was warm, friendly and homelike. The caregivers are exceptional and they treat the residents as they would their dearest family member. They give the residents real love and respect. It is clear that the culture at Aspen Care has been put in place from the top — and that is Tracey Anderson. She sets the tone and the caregivers know "this is the residents' home, not theirs" and they are treated accordingly.
With the help of Aspen Care, my father went from being depressed and withdrawn, with frequent trips to the emergency room for various problems, including anxiety attacks, to being healthy, social and a joy to be around. He felt cared for and made a real connection with the residents and caregivers. Rex spent about 18 months at Aspen Care. Then my wife and I retired, and now my father lives with us in Phoenix, near his grandchildren and great grandchild. I know everyone's situation and experience is different, but I will always wholeheartedly recommend Aspen Care to anyone that asks me. We love them and know they are the BEST you will ever find.
A Beautiful, Cheerful Home
My mother, Jacquie Weible, was the first person to move into Aspen Care Home when it opened in March 2011. Following her stroke and rehab, we were told she should live in a small group assisted living home—we didn't even know what that was!  We feel so fortunate to have found such a beautiful, cheerful home at Aspen–with truly caring staff. Owner Tracey Anderson is personally involved on a daily basis with her ten residents, their families and her staff.
What does my Mom like about her home? It is light and spacious, she has her own furniture in her room, she enjoys the community atmosphere at meals and just sitting around visiting with others. She especially loves the beautiful patio–recently re-designed and landscaped in memory of a loving couple who lived at Aspen. Since my mom is a 'Night owl" she enjoys watching the large screen TV in the living room. Another plus is having her hair done weekly by a hairdresser who comes to Aspen. The staff plans activities from bingo and puzzles to crafts, current events, and holiday celebrations. The meals are healthy and fixed in the open kitchen. Mom has really adjusted to this major change in her life—thanks to Aspen and the staff.
As her daughter, what do I like about Aspen? I know my mom is receiving excellent care 24/7 by people who respect, like and sincerely care about her. I visit frequently so I see what is going on and know she is in a positive, caring environment.  This has enabled me to keep working and make trips. I handle my mom's finances and knowing everything is included in the monthly fee makes things easy. The only additional monthly bill is for her prescriptions—but Tracey arranged for a pharmacy to handle it and the staff sorts and administers the meds.
In short, my mom and I are THANKFUL every day that she is living at Aspen Care Home.
Respect, Compassion and Care
I moved my mother to Aspen Care Home a little over 2 years ago from a larger Alzheimer's facility. At that time, she was in hospice after a trip to the emergency room. (She had been sent to the hospital 3 other times in the previous year and a half.) The move would be stressful but I knew she was ready for a smaller facility and there was an opening.
Since being at Aspen she has been off hospice for over a year, has had no hospital visits and will celebrate her 93rd birthday in early December, 2015. Her strength and spirits are up, her humor is encouraged. Despite her advanced Alzheimer's disease she jokes with the staff and residents on days she can speak and they in turn joke back.
In her own direct and sometimes "salty" way she has also let staff know when she is not happy with them and they have not let it affect their professionalism. On days she can feed herself they encourage that and on days when she cannot she is helped. She has opportunities for both group and individual interaction, exercise, music and crafts. She enjoys watching the flowers, birds and little critters in the outside patio.
I credit Tracey Anderson, her care staff, the relationship and respect they have for each other as well as Tracey's willingness to step in when needed with her RN experience for not only the length of my mother's life but more importantly for the quality of her life.
The staff has been attuned to her needs which fluctuate constantly and let her be the author of her life. They truly care about the people who are there, get to know them as people and interact with them with respect, compassion and care. My sister, who lives out of town, is able to see pictures of our mother on line as well as receive updates as she wishes. I know when my mother's health declines the staff will work with us as together we decide how to continue her care respecting the quality and dignity of her life. We would not want our mother any other place.
Wonderful Caregivers
To Tracey and her wonderful caregivers,
Words cannot express how grateful we are for the loving care you gave our parents, Barbara and Frank during the last days of their life's.  We so very much appreciate your treating them as if they were your own family.  You enabled us to grieve our pending loss instead of fretting about the quality of the parents care  You truly put the "care" in caregiver.  You gave us peace of mind.  You also made us feel welcome and part of the Aspen Care home family by enabling s to spend long hours, meals and nights with the folk
Marilyn has been a resident since March of 2021. We moved her from a larger Assisted Living facility in Kingman, AZ.  It is so reassuring to have her at Aspen Care Home where she receives greater care and attention.  The caregivers and staff are well trained, caring and kind.  The facility is warm, welcoming, open and clean.  Marilyn loves her home here and especially enjoys spending time in the beautiful courtyard sitting in the sun.  Her family is delighted to have her in this safe, lovely environment!
Thank You!
I wholeheartedly recommend Aspen Care Home to anyone looking for a safe, caring and homelike environment for their loved one. My aunt needed an emergent placement after hospitalization for a fall, and I was immediately impressed by both Tracey herself, and Aspen's facilities and outdoor areas. Tracey visited my aunt's facility the following day and assisted in expediting her transfer in less than 24 hours, and stayed in close contact with me while being sure she and her caregivers uncovered the full extent of her needs as her memory issues presented a significant challenge. Aspen's caregivers are top-notch and skillfully handle my aunt's needs, which include dementia and mobility issues, while caring about her as a person and providing her with the best quality of life possible.
My mother-in-law Lillian was in independent living in early 2022 when she suddenly took a turn for the worse. She could no longer walk or balance and she became unable to take care of her basic needs. The facility where she was living was unable to provide the needed level of care, so a transfer was required. Tracey and her staff at Aspen Care Home assisted us by arranging for an immediate placement for Lillian. She was quite quickly settled into her clean and comfortable new surroundings. We were able to breathe a sigh of relief knowing that she was being cared for 24/7. The staff at Aspen Care Home worked seamlessly with hospice providers to make Lillian's final days pain-free, dignified and peaceful. Tracey and her staff eased our family's burden at this very difficult time. We are so grateful to Aspen Care Home for the care and compassion that was shown to Lillian and our family.
Our mother began her stay at Aspen Care last November when it became clear that her Alzheimer's had progressed to the point that it was no longer feasible for her to continue to live at my brother's home. We looked at a variety of places before we toured Aspen. Once we had a chance to meet with Troy Anderson and take a tour of the facility, it was obvious that Aspen Care was the right fit for our mom.
The staff, the facility and the care at Aspen Care are all first rate. Our mother has done very well at there and we sleep better at night knowing that she is in good hands. One thing I especially appreciate about the owner, Tracey Anderson, is that I can get in contact with her any time I have a question or concern. Tracey, like the caregivers she has hired, is a consummate professional and we appreciate everything Aspen Care has done for our mother.
I highly recommend that anyone looking for a care facility should consider Aspen Care.